Digital PR
Servizi . Digital Marketing . Digital PR
Are you looking for a team able to positively promote your brand image?
Dealing with digital PR activities means creating online relationships capable of strengthening a brand reputation by way of digital marketing strategy. As the name itself suggests, digital PR activities take place on web and social networks, the most important digital spaces of communication nowadays.

Contact our team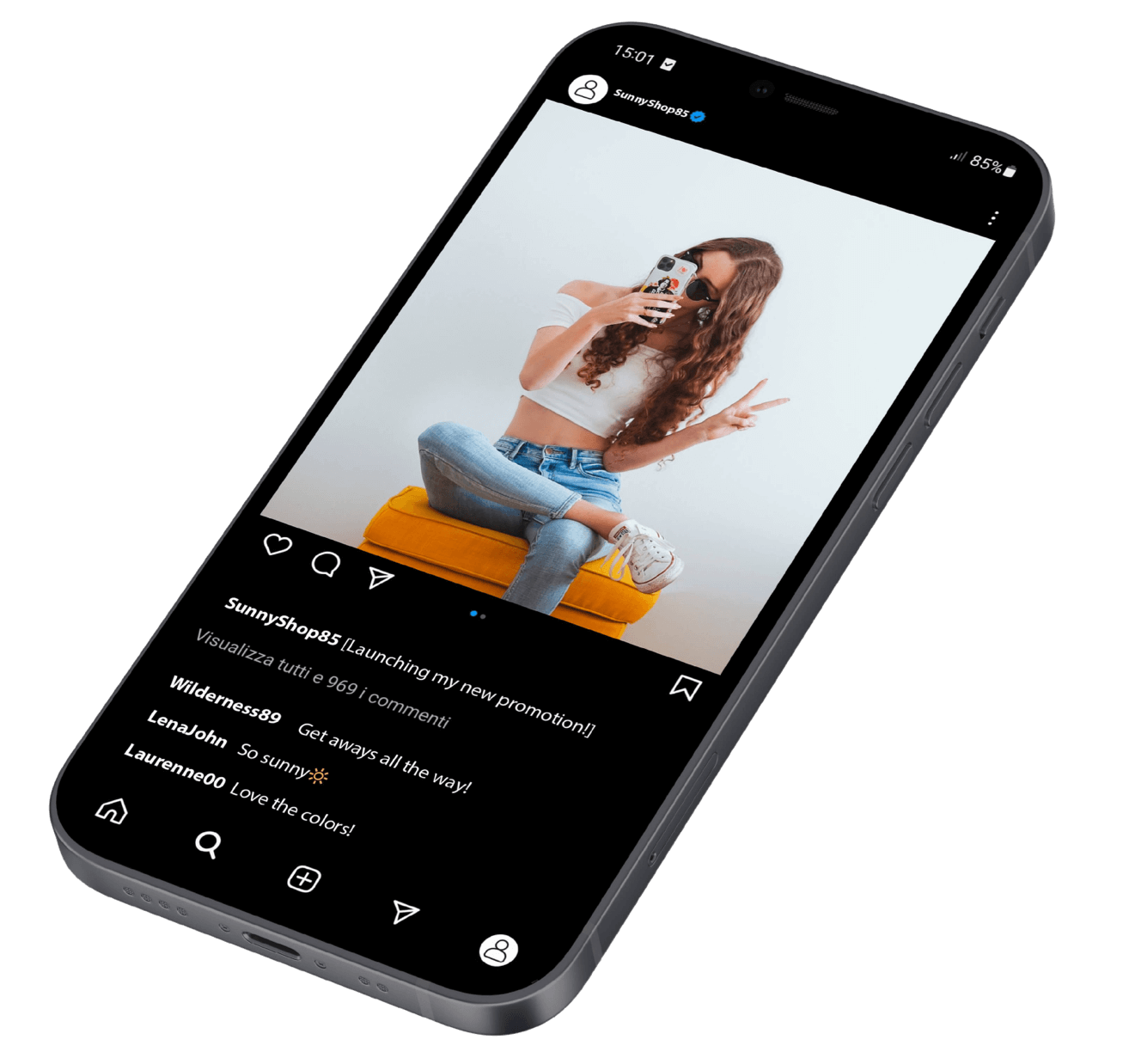 We strengthen your
web reputation

and your

brand awareness

The digital PR specialist is a professional qualified in taking care of relationships with the press, creating collaborations with influencers and bloggers and enhancing the brand reputation.

This communication expert represents the digital link between a company, web protagonists and consumers. Knowing how to manage digital public relationships means improving your own online presence and what other users think about the image that you want to offer.

But how does it work?

First step, we identify your company's goals. Then, we proceed with a meticulous search of influencers and magazines in line with your goals and brand style that we want to promote.

Once the first skim is done, we analyze the strengths of every influencer: what is their audience? On which channel do they have more followers? How is their engagement rate? Then, we deal with media kits, fees and collaboration modes.

Next, we coordinate ourselves to realize contents. No detail should be left to chance: hashtags, products and services information, mentions and publication times. From the choice of words to the most technical details, we pay attention to everything, to make the relationship as profitable as possible.

After the contents launch, we take care of analyzing data and collecting them in a report to have a clear idea about the results.
Every digital PR campaign benefits
Gaining more visibility on search engine
Create quality web traffic
Increasing followers and likes of the page
Relationship and positioning

: two strictly connected elements

Taking care of the image and relationships of your own company is essential, but digital PR activities are not limited to this. Knowing how to create collaborations and interactions with the web and social protagonists is relevant: for a company, being mentioned from influencers that share the same target of the brand and have their own consolidated credibility and a loyal fan base, can be very significant. Moreover, gaining mentions and quality backlinks means improving the Search Engine Optimization (SEO).

What activities include
digital PR

?

Gaining quality backlinks
A backlink is essentially a link from a website to yours, favoring the positioning on search engines. The quality of the backlink depends on two main elements, which are authority and pertinence of the coming site.

Analyzing the target
Studying the target is important not just for turning to potential clients. In digital PR activities, it is necessary to identify influencers and channels most in line with your own brand.

Elaborating influencer marketing strategies
Developing a correct influencer marketing strategy can reduce the costs of investments and increase the ROI (Return of Investments). That is possible thanks to the specific and consolidated fanbases, characterized by numerous users that put their faith in their opinion leaders.


Analysis and report of obtained results
After the coordination with influencers for the content production, we analyze the results to keep improving our strategy. During this process, you will be constantly updated on the achieved goals.


Knowing how to relate to editors, bloggers and journalists
The digital PR specialist has to be able to form relationships with relevant subjects of communication for a brand. The care of relationships with web actors is certainly one of the most important elements for carrying out digital PR activities.
From public relations to public related:
the change of PR with the digitalization
Digitalization has changed the places of communication and interpersonal relationships between people and online communication experts. So the main focus is now addressed to potential clients and final users, not just to the stakeholders. A persuasive communication, together with a target oriented strategy, can represent the turning point for your company.
Why choose us?
Trust and sharing
We want to build a relationship of trust and sharing. The first meeting will allow us to know each other better and let us understand your needs. We define together the goals that you would like to achieve, and we keep in mind your suggestions.
An expert marketing team
Teamwork is our main approach for over 10 years, and we offer our skills and expertise at the service of the client.
We provide tailor made solutions
If your business needs some particular requirements, no problem. We will know how to personalize our strategy according to your needs.
We stay up to date
To provide quality digital PR activities, it is necessary to stay constantly updated about the latest trends and web personalities of the moment. Our team of experts keeps up with the times, analyzing the evolution of digital communication.
We make you part of our work
We discuss with you to keep in mind your experience and your ideas. First, we decide with you the best strategies for your goals, then we keep you informed on the achieved results.
We achieve your goals together
Take care of your brand image relying on our digital PR services. Our team will know how to promote your company, thanks to collaborations and tailor made contents to generate traffic and increase your visibility. Contact us for more information about our digital PR services!