E-commerce Website Development
Servizi . Web & App development . E-commerce Website Development
Do you want to open your online store?

Increase the number of your customers and expand your business on the global market. Our team specializes in the development of e-commerce websites for every brand.
Contact our team
Contact our team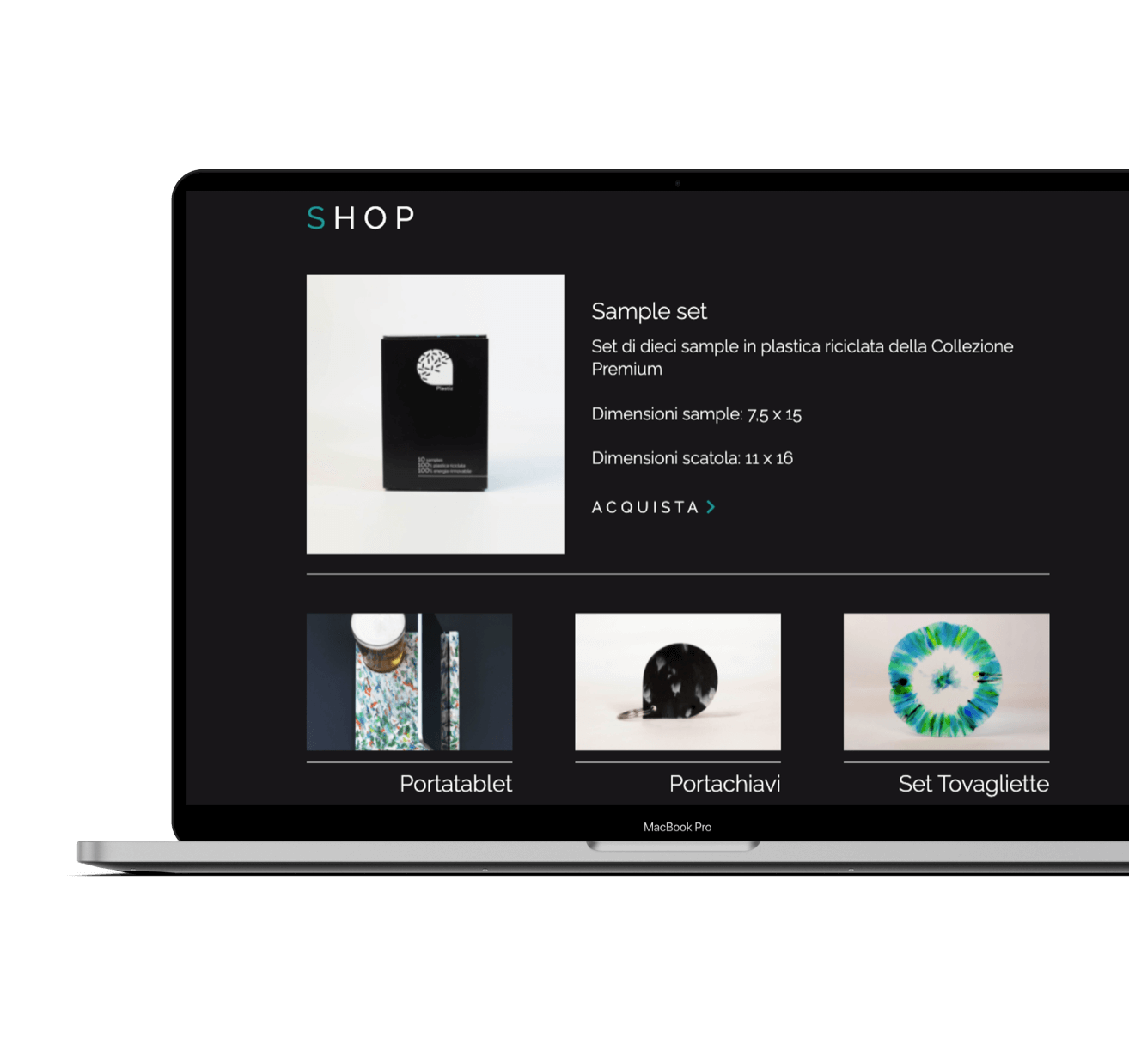 A showcase always open for sale

More and more Italian and international brands decide to open their online store. Consumer habits, in fact, change rapidly, and each company must be able to compete and differentiate itself within the market.
A professional and constantly updated e-commerce allows you to have a showcase of products that is always open for sale. You can reach distant users and promote your company through advertising campaigns aimed at increasing traffic to the site and, consequently, you can obtain more conversions.
Let's see together all the advantages of e-commerce.
What can you do with e-commerce?
Expand your target audience
Offer personalized discounts and promotions
Manage your business online
Keep a shop open 24 hours a day
Analyze customer behaviors
Promote the site with targeted marketing strategies
Receive reviews, comments and feedback
Process payments securely and quickly
Build a community of brand loyal users
Creation of an e-commerce site.
Essential characteristics

Archibuzz is a Digital Agency made up of web developers, UX / UI designers and digital marketers. We help you to create a customized store based on your needs and the type of business you manage.
We choose every detail together with you; all the e-commerce we create are unique in their kind because they are tailor-made for each of our clients.
In addition to having a design suitable for telling the core values of the company and showing its products, we are also careful to design an optimal user experience.
Development of an e-commerce website:our method
1.
Let's get to know each other
We set up a first meeting; you tell us about your project, we listen and, based on our experience and your goals, we tell you how to proceed.
2.
Analysis and benchmarking
We analyze the strengths, values and goals of the project; we identify the target audience and competitors in order to offer you a site in line with market trends.
3.
Proposal receiving
Ours is a detailed report; before starting to work, we evaluate each choice together, from the type of software to be used to the post-online activities.
4.
Graphic drafts
Our web designers work on prototypes; they can be browsed and allow you to understand how the user flow of your site will be developed.
5.
E-commerce development
The work passes to the web developers, who develop your e-commerce in dynamic code as it was designed in collaboration with you.
6.
Test phase and publication
We test the site in all its features to correct any system errors; once it's done, we publish it. Your e-commerce is ready!
What else can we do for
your business

?

To be successful, online stores need a whole host of collateral activities, just like brick-and-mortar stores.

Our team also includes Digital Marketing experts who can work on optimizing your e-commerce for search engines. SEO activities improve the ranking of websites and consequently, the chances of obtaining higher quality traffic.
Our marketing activities also include the creation and management of Google ADS campaigns and Social Media Marketing. You can take advantage of our services to generate targeted advertisements, with a predefined budget and goals.

We prepare all e-commerce for multi-channel marketing actions and we can also take care of system integration to connect the platform with other channels and services useful for your goals.

Why choose
Archibuzz

?
WooCommerce and Drupal Commerce
Our e-commerce are made with the open source technologies WooCommerce and Drupal Commerce, both suitable for small and large online stores. The first solution, used by 40% of online e-commerce sites in the world, is designed for websites developed in WordPress. The second, on the other hand, is used for Drupal sites.
100% tailor made design
We study unique designs capable of reflecting the true identity of your brand. To be remembered, in fact, it is necessary to be distinguished from competitors and know how to interpret customers' wishes, also through a store designed specifically for them.
Multilingual structuring
If you want to sell abroad, your site must be created in multiple languages. We analyze the market and the cultural context in which you want to enter to offer you the most suitable solution for your brand, with the eyes of an international audience.
Mobile-first approach
By now, traffic comes mostly from mobile phones. Our team projects a design suitable for this type of use, so as to optimize the user experience as much as possible.
Long-time experience
Archibuzz was born in 2012; since then, we have continued to train and specialize in the development of highly performing e-commerce websites in line with market trends.
Assistance, dialogue, support
You can contact us at any time even after the development of the project. We will continue to work with you to provide you with all the assistance you need to keep your e-commerce up to date.
FAQ
The cost of creating an e-commerce site depends on the needs of each customer. Among the factors that affect the final listing, there are the development of CMS functionalities, the possible integrations with third-party systems and, very often, the inclusion of content. In addition, when necessary, together with the e-commerce development, the marketing strategy necessary for its online and offline promotion must be included.
There are four main types of e-commerce: B2B, B2B, C2B, C2C. B2B e-commerce refers to all websites for the sale of products or services between companies. B2C is the most common e-commerce; a company sells its products or services directly to consumers. Its opposite is C2B e-commerce, the least used of all. This type is used by consumers who want to make their products or services available to companies. Finally, there is C2C e-commerce, used by consumers to sell products or services to other consumers.
Realize your ideas with us

The development of a successful e-commerce website is not an easy task; for this reason, it is always better to rely on a team of experts.
Whatever type of e-commerce you want to develop, our Digital Agency is at your disposal to collaborate with you in its realization.
Contact us and tell us about your project!