Mobile app development
Servizi . Web & App development . Mobile app development
Do you want to enhance your brand with a personalized app?

Our iOS and Android mobile app development service allows you to build customer loyalty, increase sales and stand out in the market.

Contact our team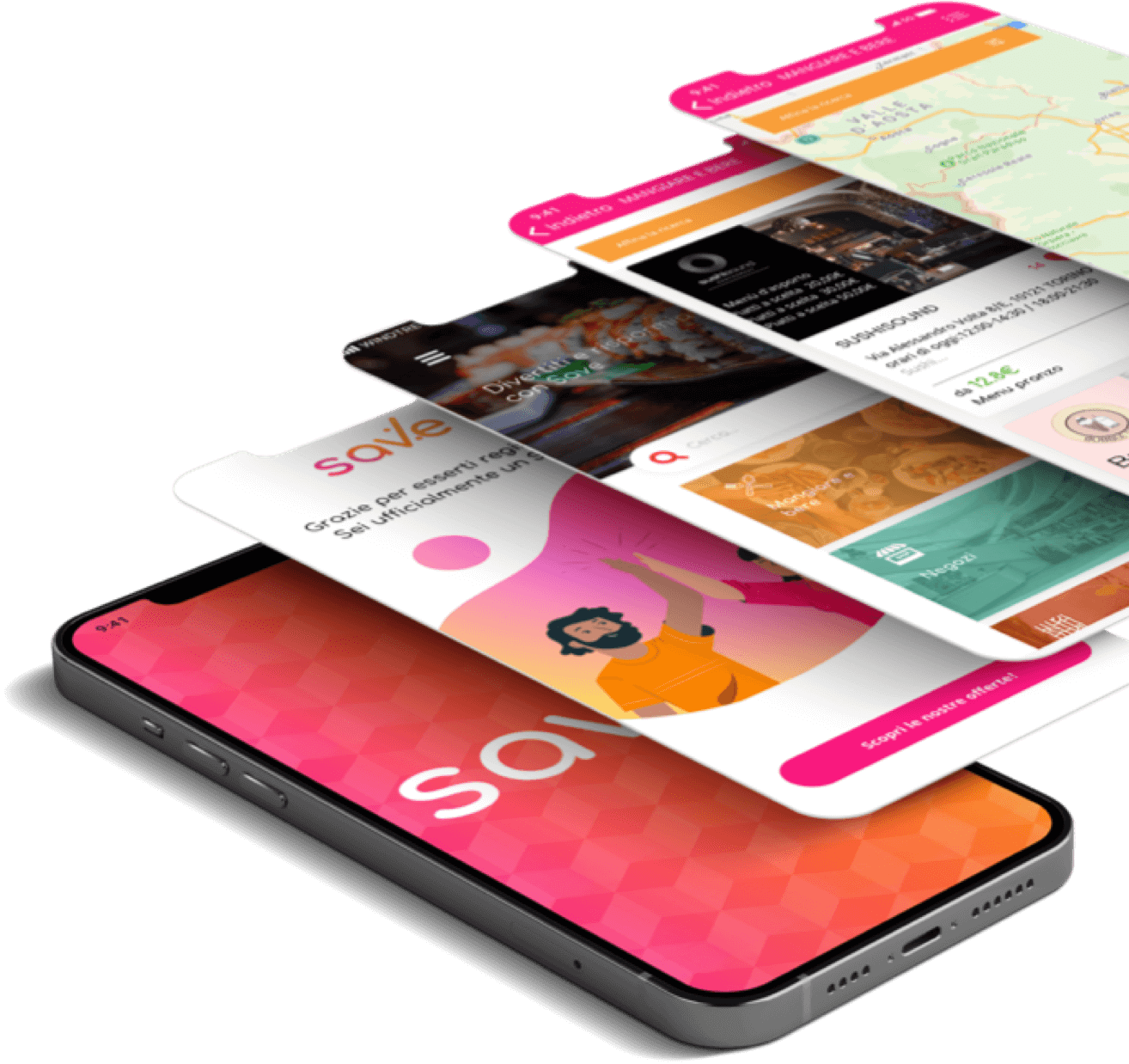 Creation of
custom-made apps

for any project


Archibuzz, which is also a Google partner, is a Digital Agency specialized in the development of apps for smartphones and tablets. We create completely customized apps, tailor-made for your business, able to connect and exchange data with any application already used by your company: website, ERP, CRM, custom portals, social networks, etc.
What can you do with an app?
Showcase your products and services
Increase online and in-store sales
Save time, money and resources
Differentiate yourself from all competitors
Retain your community of users
Create tailor made shopping experiences for your e-commerce
Track and analyze user behavior
Automate your business online
Communicate with your customers at any time
Building a platform where users interact with each other
Mobile app development with
React Native
Our Digital Agency in Turin deals with the development of 100% custom made apps, fast and easy to use.
We use React Native, an open-source framework for mobile applications created by Meta (the company that includes Facebook, Instagram and WhatsApp). With this technology, we create fast and reliable native apps for Android and iOS operating systems in a single codebase.
Advantages

of React Native

Single Codebase
We create applications in the same codebase for both Android and iOS operating systems. Thanks to React Native, the development, maintenance and evolution costs of the mobile app are lower, and go-live times are incredibly shorter.

100% custom made
You can customize your app in every aspect to stand out from all competitors.

Extensible
Any component can be made by extending existing components.

Reliable and future-proof
The same technology has been used by thousands of the most popular apps. It is very likely that most of the apps installed on your phone, the ones you use most often, have been developed on React. It is a technology destined to remain on the crest of the wave for the next few years.

Fast problem solving
Since it is the most popular app framework, React Native also boasts the support of a large community. The latter provides quick fixes to any bugs that may arise in its Javascript libraries in the future.
Le app più utilizzate al mondo sono realizzate con react Native, ad esempio:








How mobile app development works:
our method
1.
Analysis, listening, dialogue
First, we listen carefully to your idea and, together, we analyze it thoroughly. During this first phase, we talk to you step by step to design your ideal app together.
2.
You receive the proposal
We build a detailed report that can show how the final result will be, and we provide you with an accurate cost estimate.
3.
Wireframe creation
We project the wireframe. It is a real model that will show you the graphic structure of the app.
4.
Development
Together with you, we come to define a complete project, based on shared ideas and strategies. Our teamwork continues with the development phase of the app code.
5.
Bug testing and research
At this point, the development of the mobile app is almost complete. Let's proceed by testing the app in all its features in order to search for any system bugs and fix them.
6.
Deployment and ASO
After completing the tests, we publish the app on the Google and Apple stores. We also take care of the App Store Optimization (ASO) to increase its visibility for users in the stores.
And afterwards?
The team of our Digital Agency is made up of developers, visual designers and digital marketing experts.
We can help you launch the project within the market and continue to follow you in everything you need.
We suggest all the latest market news and possible implementations for your project. We always stay up to date, and we also want your app to continue to be an innovative tool.

Why choose
our team

?
Dalla A alla Z
We provide you with a complete service: we take care of everything you need to build and promote your app.
Many years of experience in mobile app development
If you want an app that yields more than the investment made, you need to rely on a team of professionals who have already developed successful mobile apps.
Continuous training
Each of our applications is preceded by in-depth analyzes and studies.
In addition, we always keep up to date on the latest technologies in order to provide you with a cutting-edge tool in line with market trends.
Tailored for you
We create 100% custom apps: you won't find others similar to yours.
App Store Optimization
Our apps are incredibly easy to find in the Stores. In fact, we take care of the App Store Optimization (ASO) to ensure that they appear among the first results.
Maintenance, assistance, support
Even once the development of the mobile app is finished, we remain by your side for any type of request and need. We will follow you to keep your app always active and functional.
Direct communication
We establish a confidential and trusting relationship with our clients.
For any questions, problems or requests, you can contact us at any time before, during and after the development of the project.
FAQ
There is no default price; the technology we use certainly allows our customers to save money. In fact, we use React Native, a framework that allows you to create native apps for iOS and Android with a single codebase.
The cost of developing a mobile app varies according to the complexity of the work. Among the most importants, there are the type of app you want to develop, the operating systems, the infrastructure and the backend, the design and functionality. In addition, after the development, there are other activities that should be considered: publishing the app on the Stores, promotion and maintenance to keep it constantly updated. All operations that our Agency decides together with its customers. Each choice is evaluated on the basis of the marketing strategy you want to adopt and the budget you have at your disposal.
As well as costs, the production times of an app also vary according to the complexity of the work. The development can take from a few weeks to a few months of work, also considering the time it takes to define the app. These concern the different phases of analysis and comparison between our team and the customer to decide all the different functions of the system. In addition, the times for creating and approving content for the Stores (titles, descriptions, images, videos and banners) must also be taken into consideration.
Archibuzz uses React Native, an open-source framework that can be scaled and remodeled over time, as needed. Thanks to this technology, the production times are significantly reduced. In fact, React allows you to create apps for iOS and Android operating systems with a single codebase.
Realize your ideas with us
We want to put your needs and wishes first.
We can decline any project based on your business and your interests.
We will support you at every stage of your mobile app development.
Contact us for a first consultation!