Content Marketing
Servizi . Digital Marketing . Content Marketing
Do you want to promote your company with texts tailored to your needs?
Making a content marketing strategy means building up a studied, clear and in-depth textual universe that knows how to tell the story and the peculiarities of your business.
The service of our Digital Agency in Turin helps you to increase the brand authority and promote your products and services.

Contact our team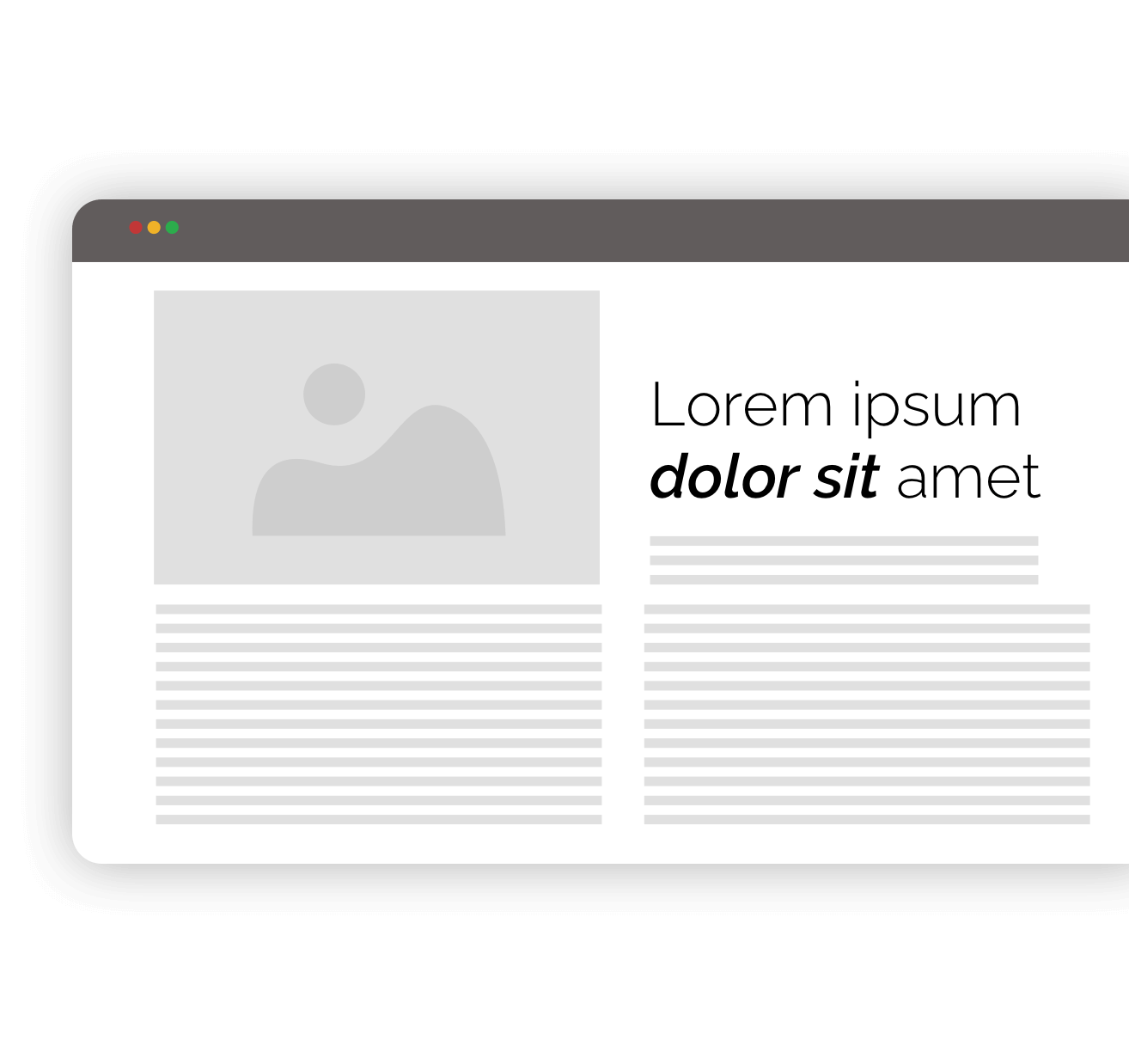 Creation of original and persuasive
SEO-oriented content

We want to convey your brand values through words.
We produce original content of all kinds, customized to your needs. Our Digital Agency in Turin studies with you the most effective strategy for communicating online and offline with your customers.
And that's not all. Our goal is to produce SEO oriented texts that appear among the first search results. And, also, persuasive content, which inspires trust and which transmits to readers all the advantages of the services and products you offer.
All the benefits of content marketing
Increase in the brand authority
Creation of a loyal user community
Promotion of your products and services
Acquisition of new customers
Increase in website traffic
Greater investment in inbound marketing
Increase of user interactions
Obtaining spontaneous business contacts
​​The right text, in the
right place
We create, manage and optimize texts of different types. Google rewards quality content; the work of our team consists precisely in the drafting of in-depth texts with attention to every detail.
The creation of content is a service that intersects with other activities carried out by our Digital Agency in Turin. Those who produce the texts constantly collaborate with experts in social media marketing, website and app development and web design.
The ultimate goal? Presenting complete, original, tailor made and structured products based on your needs.

Content Marketing:
what kind of content we produce

News and web articles
Together with you, we choose the topics, style and tone of voice for the news and articles that we post on your website blog. Or, we produce content for the magazines and newspapers you collaborate with

Newsletter and DEMs
We create newsletters and DEMs from A to Z. Our copywriters, together with the team of graphic designers, take care of composing and sending communications to your subscriber lists

Press releases
We take care of the production of press releases to be published on your website, on social networks or on other sites. We can also take care of sending the press releases to your mailing list or to the entities you work with

Testi for websites, apps, e-commerce
Do you need someone who writes captivating and suitable texts to reflect your brand? We optimize existing content on websites, apps and e-commerce and we also take care of their creation from scratch. Everything is studied together with you and based on your communication style and the type of products or services you sell

Copy and microcopy
Our copywriters and content writers take care of the creation of copy and microcopy for your social media and advertising campaigns
CHow content marketing works:
our method
1.
Goal setting
During our first cognitive meeting we talk with you to define the main goals of our collaboration with your company.
2.
Analysis of the brand, the target audience and competitors
We study the business and competitors closely and analyze the target audience to find the right words to promote your services or products.
3.
Creation of a personalized editorial plan
We create and structure a customized editorial plan and find keywords consistent with the topics covered, suitable for best describing your brand.
4.
Publishing or sending of the contents created
We publish the contents created or send them via our mail servers to whoever you want.
5.
Report of the achievements
During or at the end of our collaboration, we provide you with a complete report of the work done and the results achieved.
Does your company have
customers abroad

?

Our team also deals with the editing of content in English.

We go beyond simple translation: we create a customized content marketing strategy based on the countries and cultures of reference.

We will take care of adapting your communication to the target audience, respecting the tone of voice of the brand and its mother tongue.
Why choose
our team

?
Listening and sharing
The first meeting is important to define marketing goals together. We immediately establish a relationship of mutual exchange and sharing.
Continuous training and attention to detail
Our team never gets tired of learning; we are constantly updated on the ultimate trends in the sector, but not only. We train ourselves to propose well-developed and curated contents from every point of view.
We work as a real team
We devise our strategies all together. We combine our skills to create useful synergies to develop comprehensive and effective texts and editorial plans.
Continuous confrontation during and after work
We discuss with you throughout the drafting process of the various contents and we treasure your experience and ideas.
No duplicate content
The texts we write appear on your website and on your communication channels, and that's it. They are all original; we avoid creating duplicate content that would negatively affect the positioning of the website.
Turn your ideas into reality

Start communicating with your target audience and do it with quality content. We can help you shape your texts according to your goals and help you tell the story of your brand.
Ask us for more information about our content marketing service!