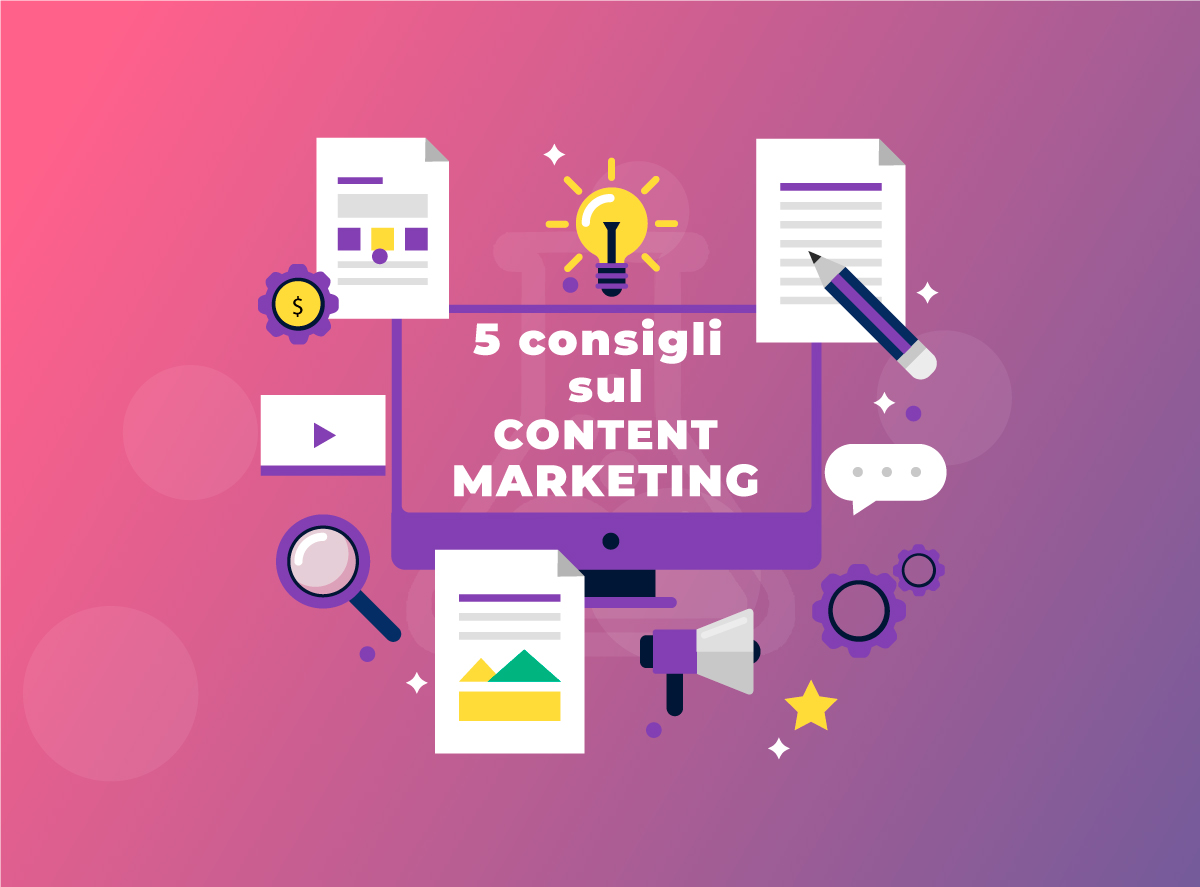 Web Marketing and Strategy: 5 Tips on Content Marketing
What is better to communicate? Through which channels? How often? These are just some of the questions that are most often asked when thinking about this issue.
Every web marketing agency follows a strategy tailored to its customer in order to increase traffic to its site, credibility, authority, but above all, sales. An important aspect of the promotion strategy is content. The contents are in fact the vehicle with which companies communicate their values, provide information on products or announce discounts and promotions. For this reason, establishing quality communication with its users is definitely one of the winning cards to increase engagement.
What is better to communicate? Through which channels? How often? These are just some of the questions that are most often asked when you reflect on this issue, but the truth is that there are no precise rules and practices suitable for everyone.
Favouring a well-structured strategy

It is advisable to choose immediately the type of content that you want to publish with relative tone of voice and which channels to focus on. In fact, in establishing the specific purpose of its strategy (brand awareness, lead generation, conversions, traffic, community development), it is essential to act effectively.
The target audience remains another focal point to focus on during the structuring of the content strategy. When we produce content, we must always keep users in mind: their age, place of origin, habits, interests, but above all their needs.
Another fundamental element that contributes to the realization of a web marketing strategy is the channel, that is, where we will distribute our content, always based on the habits of the target users.


The advice is to focus on a multi-channel and multi-content strategy to intercept a broad audience.

Offer an immersive experience

Regardless of whether the purpose is to generate traffic, conversions or make oneself known, each content should trigger the same process:

attract attention
retain users
invite to make a decision, which can be buy a product or subscribe to the newsletter

Differentiation of social channels

For a good web marketing strategy it is always recommended to differentiate content according to the channel. Each platform should have its own editorial plan according to its characteristics, so that similar content is declined in different ways. For example, on Facebook it is suggested to use links and a more professional tone, while on Instagram the links are not encoded and you prefer a more friendly tone.

Bring out your personality and corporate values

Depending on the goal, the content will be different, but the constant that we recommend to keep to attract the attention of users is to be always direct, to tell an experience approaching them. It is important to highlight the fact that behind every web marketing content there is a real person, able to help and respond to the needs of their users by creating a human contact.

Analyse the results

Measuring the impact of published content in depth helps you to understand more about the interests of the target audience and what to aim to adapt to it.
THE CONTENTS ARE THE VEHICLE WITH WHICH COMPANIES COMMUNICATE THEIR VALUES, PROVIDE INFORMATION ON PRODUCTS OR ANNOUNCE DISCOUNTS AND PROMOTIONS. FOR THIS REASON, ESTABLISHING QUALITY COMMUNICATION WITH YOUR USERS IS CERTAINLY ONE OF THE WINNING CARDS TO INCREASE ENGAGEMENT.
These are 5 devices that help to structure a good web marketing strategy through content. If you are curious to find out what is the most suitable content strategy for you do not hesitate to contact us to tell us about your project