Strenght, potential, well-being. Stenika. Essential Training
.
A modus vivendi based on well-being and physical improvement; Stenika is the gym specialized in calisthenics and bodyweight training. A place of sharing and friendship, where passion and commitment are the basic principles of every business. But it is also a method that combines constant practice and the experience gained by its professionals over many years of teaching.
We took part in the creation of the project's brand identity, which had to be in line with the core values and the thousand shades of Stenika. We have created the name, payoff and logo suitable to reflect its character and essence.
We started from the etymology of the word calisthenics, a term that derives from the union of the Greeks καλός ("kalós") and σθένος ("sthénos"), "beautiful" / "good" / "favorable" and "strength" / "power" /"potential". Stenika is the result of the contraction and inversion of the two words; a name that recalls the history of calisthenics through an original and recognizable sonority. The payoff, "Essential training" communicates seamlessly one of the basic principles of the gym; physical exercise as a necessary and essential activity for well-being.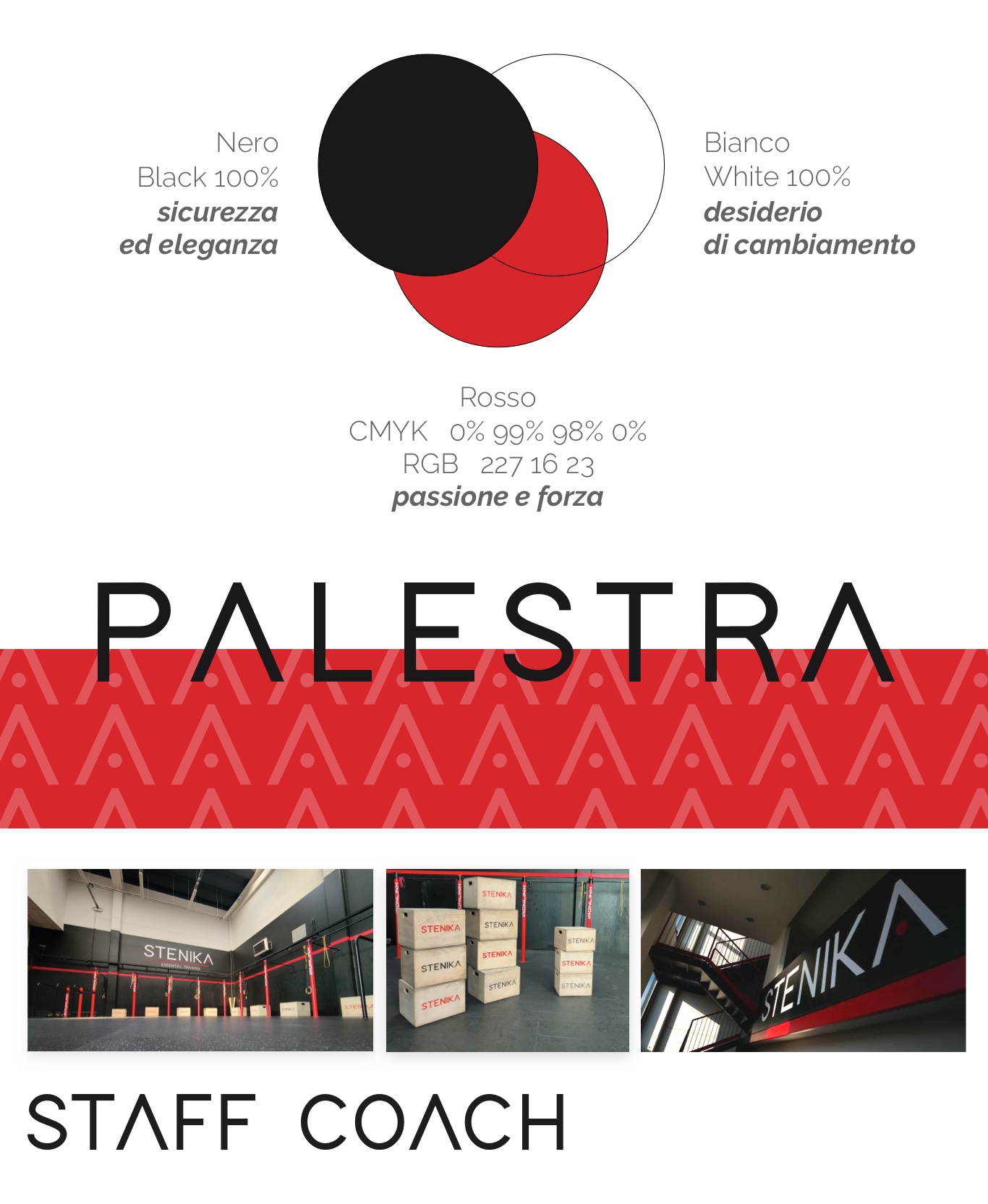 The colors red, black and white evoke all the team's energy and instill it in those who enter Stenika's spaces. An atmosphere capable of stimulating the desire for change and lightening the right mood to face every challenge with determination.
The sans-serif font, in addition to being clearly legible, is essential and clean, and the thickness of the letters recalls the idea of ​​strength and self-confidence. All shapes are geometric and linear; the red circle in the center of the "A" is the main catalyst for all the attention, a symbol of creativity and innovation.
A brand's visibility changes continuously based on marketing strategies and market developments. Brand identity, on the other hand, is a much deeper and more lasting concept. This is why it is important to give it value and rely on professionals to study the right combination of words, colors and images suitable to represent your company.
Are you ready to bring the DNA out of your project? Contact us to find out how we can help you.