Development of a new website for Tuttaltromo(n)do
.
Tuttaltromo(n)do, the all-female online travel agency specialized in South America tours, recreates its look with a new image and the development of a new website.
What is its goal? To renew the graphic identity of the brand and optimize the user experience, in order to bring out the custom-made approach that has always characterized the agency.
The idea behind this project, was to create a simple and immediate graphical interface, in line with the latest trends. About the web design part, the red of the logo, also present in the text and in the graphic elements, has been used to maintain consistency with the corporate image. To make the individual pages of the site more dynamic, some animations have been inserted, being visible in all sections.
For the web development we chose CMS Drupal, one of the most used in the world to provide digital experiences that combine customization, performance and security. Our goal was to make the new site aesthetically appealing, but at the same time also easy to manage and update.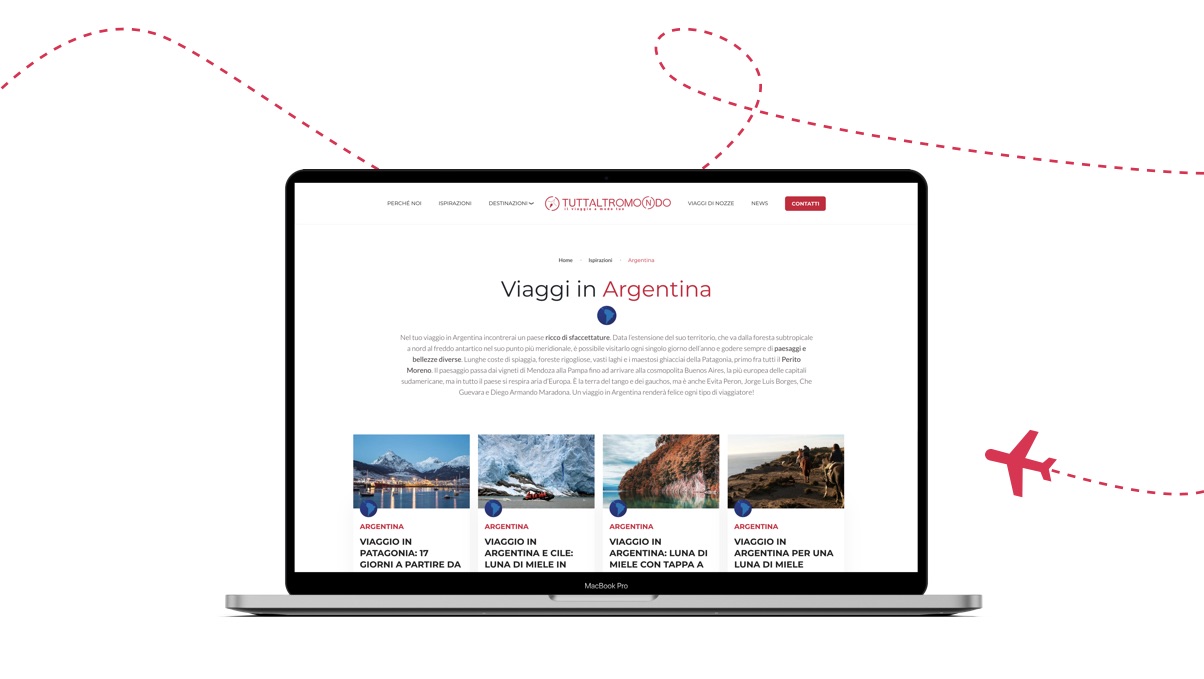 The internal structure has been optimized to allow the user to quickly navigate through the various "inspirations" (customizable tour proposals). In this section you can also apply filters by location and quickly find routes depending on the selected destination. From the menu in Home you can access the three macro-categories South America, Central America and Tuttaltremete, and then filter the tours by selecting the country of interest.
To give a greater visual impact, slideshows have been inserted within the individual destinations, in which some tour proposals are presented, to inspire the viewers. The routes on the site are editable and customizable according to the users' needs, which is why under each tour we added a contact form, for any requests.
An Instagram Wall has also been added to Home, to promote what is becoming one of the agency's favorite social media channels.
Do you want to be updated with the latest news and trends on UI/UX design, website development and marketing? Follow us on Facebook, Instagram and Twitter , so to not miss a single post!