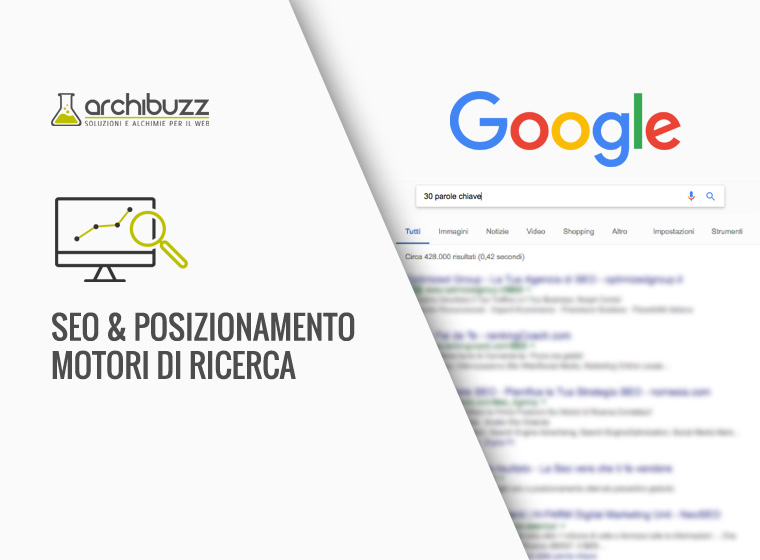 SEO consulting: our case of success
Some time ago a client approached us, asking Archibuzz for support in maintaining the organic positioning...
Some time ago we have been asked for a SEO consulting by a company that operates in the financial field. The team asked Archibuzz for support in order to maintain and extend the organic positioning currently achieved by its site on some keywords. Moreover, it asked to improve the SEO positioning of the others.
Our client operates in a particular financial market niche. This niche have fierce competitors on the web. They position themselves on the first page of Google thanks to strategic keywords and targeted and constant interventions.
The goal has been strengthening the leadership position of our customer in the SERPs (this only after the SEO consulting with our team). The client wanted to rank first on the chosen keywords. This outcome has been created with SEO optimization work within the site.
Also, with the planning of an editorial plan sui generis, with articles designed for the placement of selected keywords. We added meta title, meta description, internal links, quality articles and news optimized for SEO. The latter had to contain the keywords identified as priorities for organic positioning strategy on Google.
These articles have been supported by a precise work, which consisted in creating organic links to them and pages already placed on sites of interest and forums.
Now, during a SEO consulting, whoever deals with it knows perfectly that one of the main factors to improve the positioning of a site is that of backlinks. The more a site collects backlinks (i.e. direct links to it) from authoritative and relevant sites, especially if in the same industry, the better its position in Google's search results will be.
Backlinks play an important role in calculating the popularity of a web page, called link popularity, and in particular are among the factors that search engines consider to generate search results.
But the links do not all have the same weight. For example, a link coming from a site with a good reputation and with a high user traffic is worth 100 times more than many links coming from sites not authoritative.
To obtain the largest number of backlinks we worked on the creation of articles with an informative cut for the most authoritative portals. Meanwhile, we created press releases for portals dedicated to this type of communication.
Thanks to the continuous work of sending articles to online portals and magazines, we have currently obtained the publication of several articles per month containing at least a backlink with an anchor text properly studied. The customer also gained visibility on over 15 digital sites and magazines.
An intense work that led to the achievement of the set goals in only 12 months:
30 keywords in the first position on Google;
16 keywords passed in first position;
14 keywords kept in first position during the months of optimizations.
In order to achieve this kind of results, continuous work over time and an in-depth analysis of the objectives are necessary. For this reason, it is necessary to implement a plan of SEO optimizations that provide various steps over time and a continuous monitoring of the results obtained.

The first step to take to implement your plan is definitely to make a first check-up of your site. Do you want to optimize its SEO positioning? Contact us for a free SEO consulting.