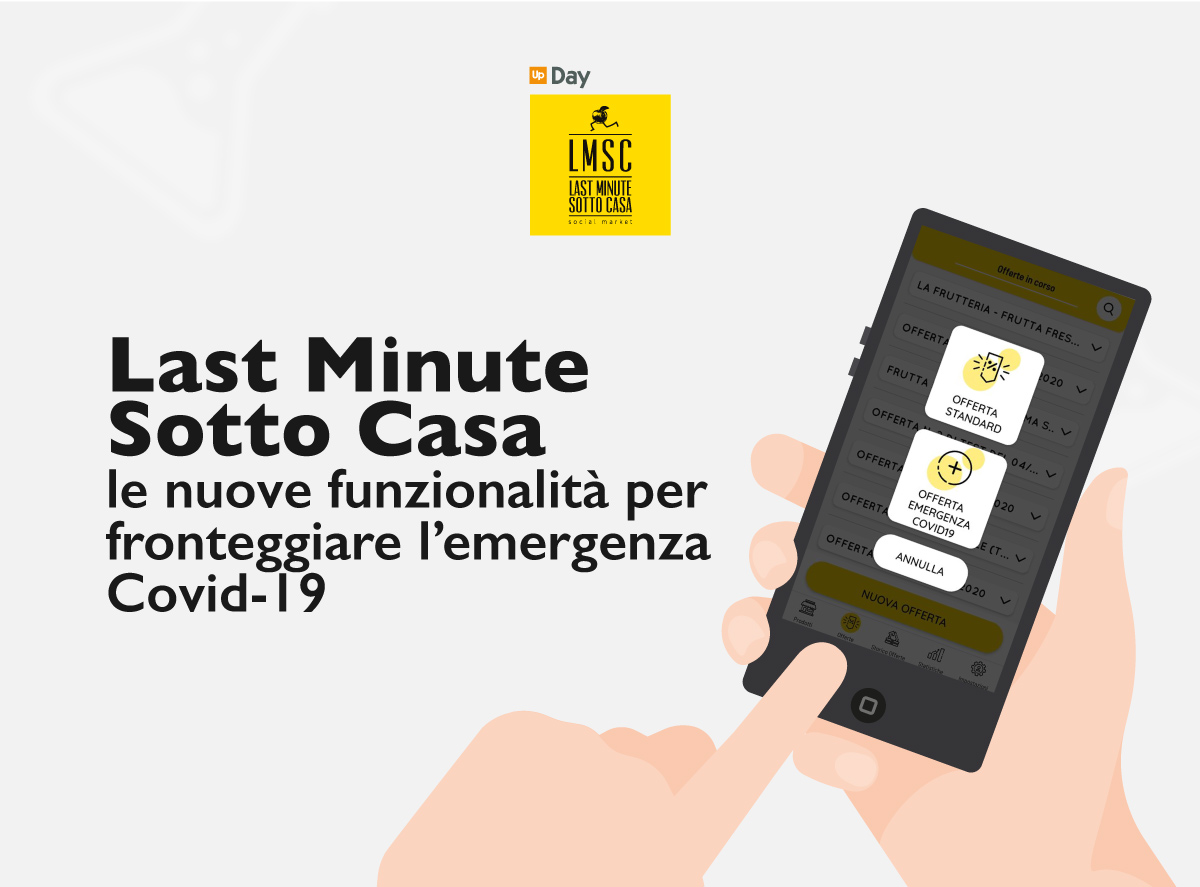 Our web agency presents LMSC, the new tool for dealing with Covid-19
In these difficult days many are moving to protect small local businesses, and Last Minute Sotto Casa has not been outdone. Here are all the new features of the app.
We already told you about the collaboration of our web agency with Last Minute Sotto Casa (LMSC). It is the first digital community against waste which supports sustainable and increasingly "smart" spending model.
The primary use of the app is to allow retailers who have expired food products to notify users nearby. The notification informs them about the possibility of purchasing the items at a discounted price. The service is unique in its kind and it is already used by 100,000 users throughout Italy. Last year, Archibuzz had already collaborated with LMSC developing the new version of the back-end of the system.
In order to cope with the Coronavirus emergency, the service has been extended to be increasingly closer to the needs of merchants and citizens, allowing merchants to send push notifications to users to communicate not only the deals of the day, but also any additional services (possibility to collect the shopping ready and bagged in the store, home delivery, etc.).
It has been added a new feature to the previous logic of the service, which allowed merchants to send offers with products discounted by 40%, 50% or 60%. This feature allows the dealer to send offers not limited to individual products, in order to be able to communicate more effectively with its customers during the Covid emergency.
As already happened in the latest releases of the service, our web agency has taken care of the implementation of the new functionality from the back-end side, while Synesthesia has taken care of implementing the features on the mobile app.

Thanks to the changes recently made to the app, Last Minute Under Home confirms itself once again in support of small local realities. The ones are the most affected by the pandemic, and the new system confirms how digitalisation can prove to be a valuable tool in favor of the community, especially during this particular moment in history.
Do you have an idea or a business project that can help coping with this particular time in history? Contact us, and tell us about your project; our web agency in Turin is at your disposal to turn your idea into reality!