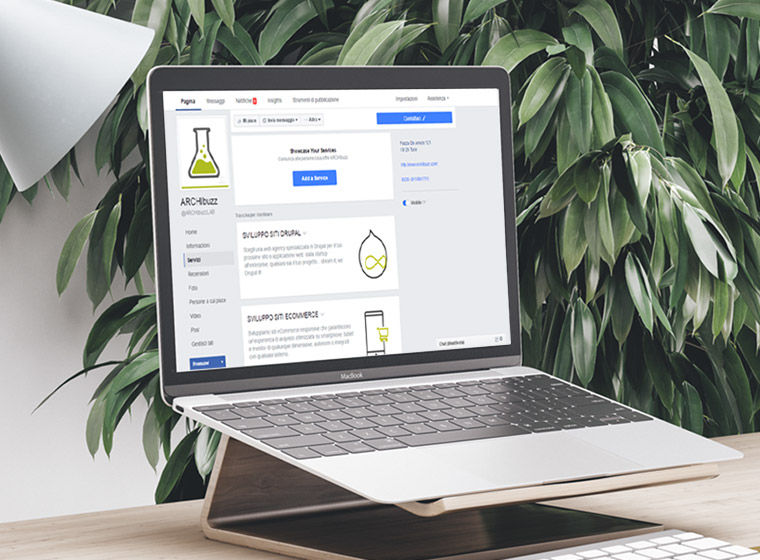 Social media marketing: come mettere in evidenza i propri servizi su Facebook
After several months since its implementation, Facebook has made available to almost all types of pages the possibility of…
The procedure described in this article has changed, we have written a new blog post on the subject, in which we explain how to best optimize the corporate Facebook page.
Being present on the social networks in an increasingly effective way, taking full advantage of the potential of each platform. In this article we explain how to do Social Media Marketing by optimizing a business page on Facebook, in order to inform users in a complete way about the company's activities.
After several months from its implementation, Facebook has made available to almost all types of pages the possibility of entering descriptions of its services. This feature allows business pages to highlight the strengths of their business. Let's see together how to set up this form, one of the best practices for the proper conduct of a Social Media Marketing activity.
For each service you must specify:
a name, using a maximum of 40 characters;
a description, using a maximum limit of 200 characters;
a representative image of the service offered;
the price.
So let's see how to add services to the page.
If the feature is active for your page type, you will see that in the left tab list there's a "Services" section. Click on it and you will see this screen:

At this point, just click on "add a Service" and it will open a window with the fields to fill: name, price, description and image. Name and Description are mandatory and have a limit of characters, the price and image instead, are optional.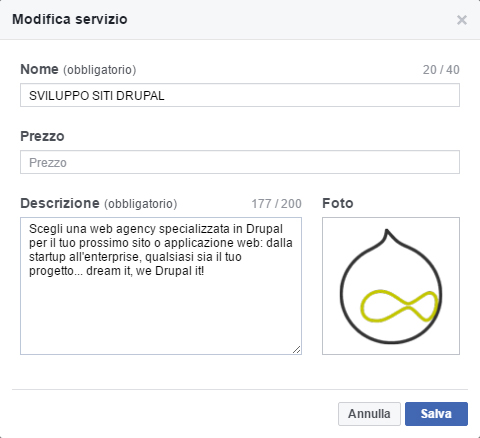 Once you click on "save" the loaded service will appear to you.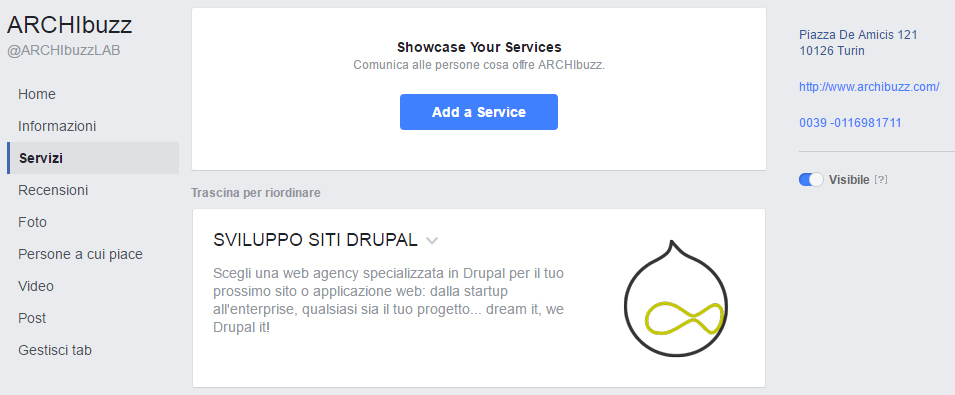 Then…you're done!
Enter your services and do not worry if you get the order wrong: once saved, you can reposition them as you like, thanks to the drag and drop feature. However, remember to set the switcher to "visible" so that your services will be visible to the public, both under the "services'' tab and in the page's diary.

As we have seen, entering your services on Facebook is easy and fast and allows you to build a real online showcase where you can communicate to all potential customers what your company offers.
Social media marketing is important!
If you need a plan to grow your business, contact us!