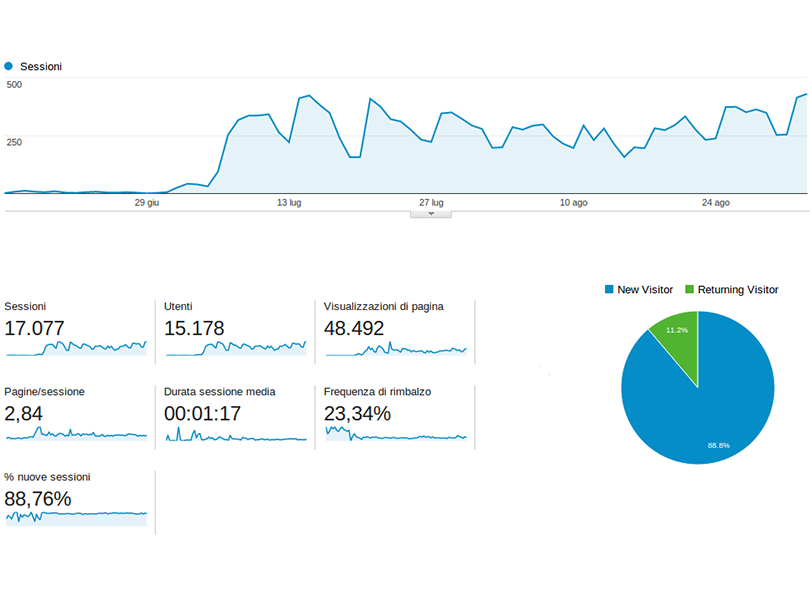 Enjoy your holidays, SEO keeps working for you
There's nothing's more satisfying than coming back from holidays and see that while we were at the beach someone has been working for us ... who is this workaholic partner? That's SEO! The starting point for every successful web marketing campaign.
The best surprise comes from an e-commerce web site that we have redeveloped from scratch and put online in late June: just imagine our pleasure when we discovered that the visitors per month went up from 140 to .... drum roll ... 8000! All this in just two months.
Because summertime does not mean worthless time on the web when SEO works for you!
By leveraging on the power of Drupal, we have developed procedures that can automatically generate all the necessary meta-information to obtain the best detection, analysis and interpretation of the web site by the search engines every time a product is placed on the platform, allowing a significant time saving and the predictability of the result.
For us, as Mr. R.W. EMERSON says, "The reward of a thing well done is to have done it." For our client there is also a surge in online sales!
Are you curious to know how we manage to achieve this result?
Contact us
! We will be happy to help you to boost the performances of your website.